YOUR BEAUTIFUL BARN WEDDING VENUE IN CORNWALL
Much more than a venue, Trevenna provides a barn wedding stay to remember. Our stunning location, surrounded by gardens, meadows, and fields, offers your guests views of Cornwall that they'll treasure forever. With history dating back to 1231, Trevenna is a natural location for your wedding.
CRAFTING YOUR STYLE OF BARN WEDDING
At Trevenna, we're all about making your wedding plans come to life. We've got three indoor ceremony spots and outdoor options, giving you the flexibility to design a wedding that's uniquely you. Picture saying your vows in the Mowhay, followed by feasting in the Garden Venue surrounded by your choice of floral decorations. Our wedding food menus and drink list are full of ideas, so your wedding truly reflects your style as a couple.
BARN & OUTDOOR CEREMONIES
Wedding ceremonies at Trevenna capture all that is romantic about Cornwall with beautiful views and a relaxed countryside feel. Trevenna is fully licensed as an exclusive use wedding venue in cornwall for civil ceremonies giving you the freedom of holding your ceremony and celebrations all in one beautiful location. With a choice of locations to say your vows including the Mowhay with Orchard Views, Threshing Barn with natural stone walls, outside under our beautiful wood and slate Arbour with its breathtaking views, or for an "indoor outdoor" feel, our Garden Venue is bright in every season. Ceremonies in the walled garden are new for 2023. The beautiful Church of St. Neot, is just one mile away.
CELEBRATIONS & FEASTS
Our stylish cluster of Barns & Farmhouse provide a stunning setting for wedding celebrations. The Garden Venue with stone and wood clad walls, soft drapes and natural slate floor, as part of the Threshing Barn, provides a light and airy space for your Wedding Feast and an extended house party feel for up to 120 day guests. Available all year around, fully heated, with twinkly lights in the ceiling and mood lighting, this is truly a celebration space to make your own. Walk through to the Threshing barn bar stocked with local draft ciders, lagers and ales for a real taste of Cornwall.  
INTO THE EVENING
Dance the night away in the Threshing barn with up to 150 Guests using our sound system, or book a DJ or band of your choice. Or simply relax with background music and enjoy the beautiful surroundings with your family and friends. Our Threshing Barn Bar is open to serve local draft Ales, Lagers, Ciders, Cornish spirits, Wines and Champagne and even your own Cocktail List! Evening munchies from the Farm Kitchen refuel your guests.
We are on hand throughout the day until the after party to keep your celebrations flowing.
Venue Details
Licensed for Marriage Yes
Ceremony Capacity 120
Reception Capacity 150
Wedding Breakfast Capacity 120
Exclusive use Yes
Accomodation Yes
Parking Yes
In-house Catering Yes
In-house Bar Yes
GUESTS BEDROOMS - BARNS & FARMHOUSE
"a small private hamlet for your celebrations".
Guests love attending celebrations at Trevenna and staying in our beautiful Barns & Farm House Rooms with their welcoming and understated sense of style. Underfloor heating, luxury bathrooms and comfy beds make for a stay made in heaven!
Welcome Dinners & Breakfasts are served in the Mowhay for all guests staying at Trevenna.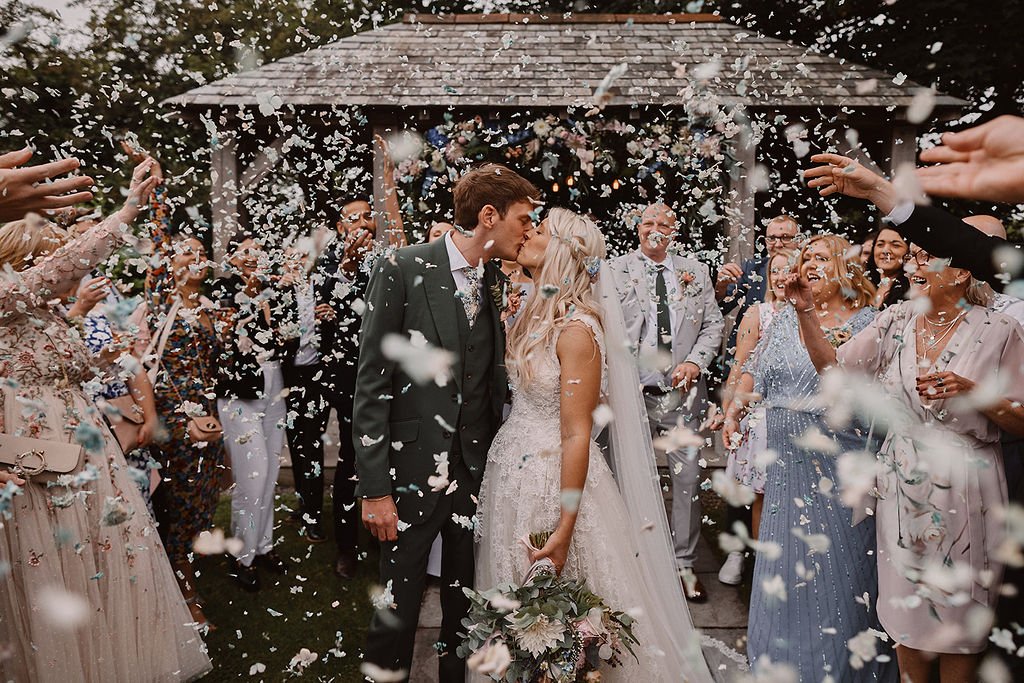 EXCLUSIVE USE
Gather your family and friends at Trevenna with exclusive use for your wedding celebrations they will love & remember, forever. Our elegant restored barns and farm house arranged around the farm yard gardens accommodate up to 45 of your guests to stay, with up to 120 day guests and 150 evening guests celebrating your wedding, surrounded by stunning views of Cornwall.
As a team with you in the middle, we will create your style of wedding food & drinks, without the strain of arranging everything by yourself. Our Kitchen & Bar Crews prepare and serve your wedding feast and drink menus designed by you in the Mowhay & Garden Venue.
Learn More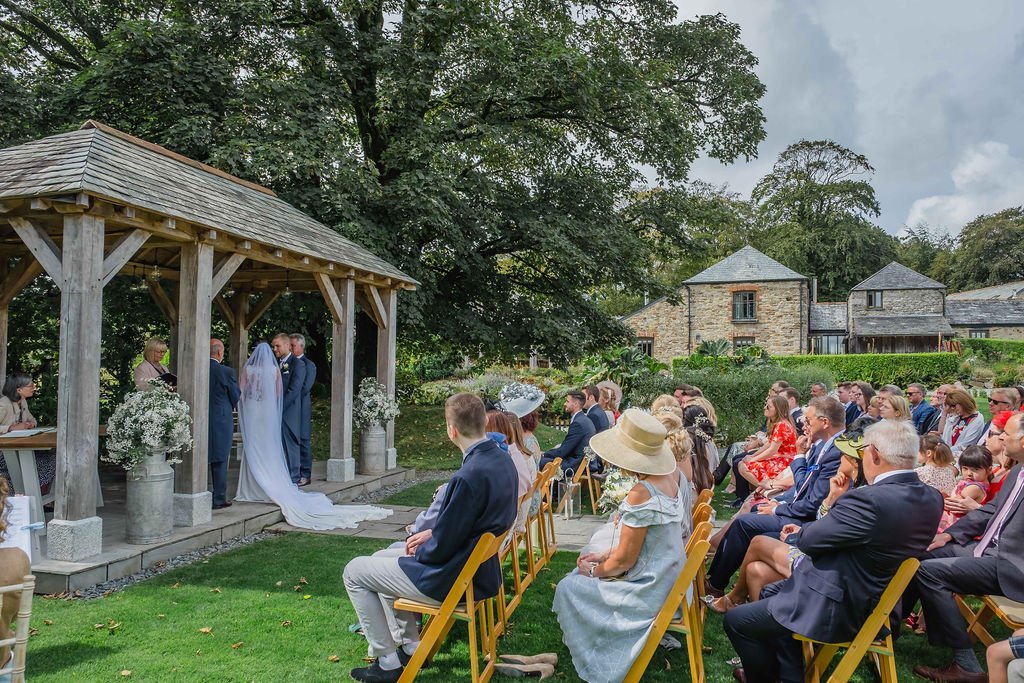 INCLUSIVE HIRE
Inclusive Hire of Trevenna provides exclusive use of the Mowhay, Threshing Barn, Garden Venue and gardens, your wedding catering and drinks list, all the guest rooms plus Welcome Dinners and breakfasts based on 45 people staying for 1, 2 or 3 nights. Additional guests up to  a maximum of 120 day guests, and 150 guests in the evening are welcome.
Learn More
VENUE ESSENTIALS
Exclusive Use of Barns & Garden Venue

Exclusive Use of Trevenna including the Garden Venue, Threshing Barn, Mowhay & Hosting Team.

Our beautiful countryside location within acres of delightful scenery and special places - just for you, your family & friends.

Garden Venue

Ceremony chairs & set up
Lay up of Feast Tables
Trestle Tables
Round Tables
Table linen if required
White cloth napkins
Oak crossback chairs
Limewash chairs
Cutlery, Chinaware, Glassware
Trevenna Spring Water on tables
Wine Coolers
Two easels for Table Plans/Signs
Gift Table
Cake Table & Cake knife
Two Oak Barrels for displays
Surround system for playlist during Feast
Microphones during speeches
Fairy lights in ceiling
Spot lights
Window uplighters

Hosting Team

Your own dedicated hosting team with 15 years of experience

Wedding Host
Bar Team
Hosting Team
Kitchen Crew
Wedmin Team
Gardener

Threshing Barn Bedrooms
Guest Accommodation

Trevenna sleeps a total of 45 people.

In addition to the bedrooms in the Threshing Barn (sleeps 11) accommodation is also provided for 34 people in 5 other barns and the Farmhouse.

Guest Contributions

Guests contribute to stay in the barns and breakfast via a direct payment link so you do not need to collect in the payments:

Granary - Sleeps 4
Wagon - Sleeps 2
Stable - Sleeps 4
Shippon - Sleeps 5
Loft - Sleeps 8
Farm House - Sleeps 7 (Sleeps 11 in 2024)
Wedding Feast & Guest Meals

Trevenna provides a fully staffed Kitchen and hosting team to plan, prepare and serve food & drinks throughout your stay.

With over 15 years of experience of feeding wedding guests at Trevenna, we have plenty of food ideas and love to hear yours.

Wedding Feast

Different menu tariffs allow for designing your own unique menu with our chefs, or selecting from our Wood Fired Sharing Feast or from our popular Farm Feast menus. The choice is yours.

Guest Meals

Welcome Dinners & Breakfasts are served for all guests staying at Trevenna in the Mowhay.

Menus

Check out Food & Drinks for delicious details.
Bar & Drinks List

Our two bars are stocked with the best of Cornish Spirits, draft beers & lagers, with a Bar Team ready to make your cocktails list!
YOUR HOSTING TEAM
We are here to help you bring your wedding ideas and plans to life. We cover every aspect of delivering your day with our Wedding Desk always available to chat through your questions and plans, through to our Kitchen Crew and Wedding Hosts who prepare the venue, food and drinks taking the strain (and work!) out of your day.
Our approach to hosting your wedding is friendly and flexible. We will work closely with you to help with ideas, suggestions and inspirations throughout your wedding planning. We want this to be a fun and enjoyable journey!
Once we have agreed all your plans we put these into an Order of your Stay for all of us to follow when hosting your wedding – allowing you the freedom to enjoy your time at Trevenna with family and friends.
START PLANNING YOUR BARN WEDDING IN CORNWALL
Trevenna is more than a venue. Trevenna is a place where cherished memories, romance, and unforgettable moments come together. Whether you've been dreaming of a barn wedding in Cornwall or searching for the perfect barn wedding venue in the UK, Trevenna offers a truly unique experience. Discover the magic and let's start planning your dream wedding today.
The best way to find out if Trevenna is the right wedding venue for you is to come and visit us, meet us and see for yourself.
Viewings at Trevenna are by appointment to ensure we can show you around all the barns, venue and gardens. Allow approximately 1 hour for a tour and to chat through your initial wedding plans. 
The best times for viewings are Wednesdays, Fridays & Sundays between 12 noon and 3pm.
Call 01579 320013 or email weddings@trevenna.co.uk to find out further details, arrange a viewing, or just for a general wedding chat.
We look forward to welcoming you to Trevenna.